Nashville Tennessee's Centennial Park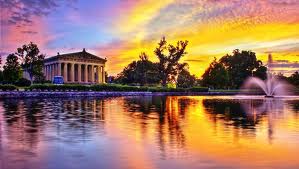 Welcome to the biggest and most beautiful established park in Nashville Tennessee. Centennial Park is an absolute must see when you travel to Nashville. Some of the most amazing sights are those that are intricately made by nature. As a park, Centennial is a haven of colorful gardens illuminating beauty, lush trees, and one hundred and thirty two acres of outdoor fun. Not only is this park intricately made with nature at its core, but it displays the world-famous Parthenon replica, identicle to the original for all to see. Whether you travel spring or fall, summer or winter, the beauty that awaits is more than words can express.
 As the leaves on the trees begin to change to colorful reds, oranges, and yellows, Lake Watauga illuminates their beauty as the colorful splendor of the treetops bounce of the soft shimmering waves of the water, your heart melts at its magnificence. Though fall isn't the only time you will see the beauty within Centennial Park; spring brings forth picturesque displays of pinks, yellows, and greens as the harmonic sounds of the fountain ring sweet melodies throughout the park. You won't know beauty until you visit Centennial Park; the heart of beauty itself.
 Though Centennial Park is well-known for its beauty and charm, there is definitely more going on than nature. With historical monuments like the iconic Parthenon, an arts activity center, a band shell, events shelter, two sand volleyball courts, and museums, there is enough fun for everyone. Enjoy a rejuvenating walk through the wooded walking trail, have a breathtaking view of Lake Watauga, or take in the serenity of the beautiful sunken garden. Of course if you come at the right season, you can experience fun-filled festivals, music events, and concerts. With so much going on, you won't know where to begin.
Venture down to Centennial Park during your travels; you will be glad you did! Go inside the Parthenon, see the antique airplane, take a paddle boat ride, and tour a train. Have a picnic and allow the kids to run free in the kid zone. Come make a day of relaxation, fun, and time to just enjoy the beauty of the Earth. To find out about shows, events, or festivals, visit www.nashville.gov/parks/newsevents/events_calendar.asp for a calendar of events with times. Whether you like the hustle and bustle or the calm serenity, there is a little of everything at Centennial Park.